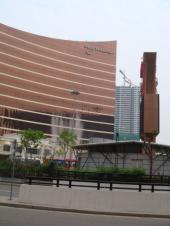 "Wynn Macau Casino" is a casino that entered Macau from the United States.
The interior has a luxurious European style, and the 9,300 square meter casino area has 390 table games and 1,190 slot machines (baccarat, blackjack, sic bo, roulette, craps, etc. Blackjack starts at HK$100). Along with
There are also hosts who can speak Japanese, so even beginners can enjoy themselves with peace of mind.
The specialty of "Wynn Macau Casino" is the large fountain in front of Wynn! At the set time, an elegant show begins with fountains, loud music, colorful lights, and flames that create hot air. It is said that there are even people who want to see this and take a position in front of the fountain.
In addition, there are luxury brand stores such as Chanel and Armani in the Wynn building, so if you win big at the casino, it might be a good idea to shop here and go home.
The Wynn Macau Casino is also located close to the old Macau Ferry Terminal. There is of course a free shuttle bus from the ferry terminal.
There is also a shuttle to Taipa Island side, so it might be a good idea to visit various casinos.
See also https://stake.jpn.com/sports/